Steve Aoki
3708.
84
rajongó
10
vélemény
Értékelés

tehetség: 77%
stílus: 77%
szimpátia: 76%
Születési név

Steven Hiroyuki Aoki

Becenév

Steve

Születési idő

1977. november 30.

Születési hely

Miami, Florida, USA

Foglalkozás

DJ, zenei producer, zenész

Magasság

175 cm

Eredeti hajszín

barna

Szemszín

barna

Csillagjegy

Nyilas

Linkek

Kapcsolódó sztárok
Steve Aoki életrajza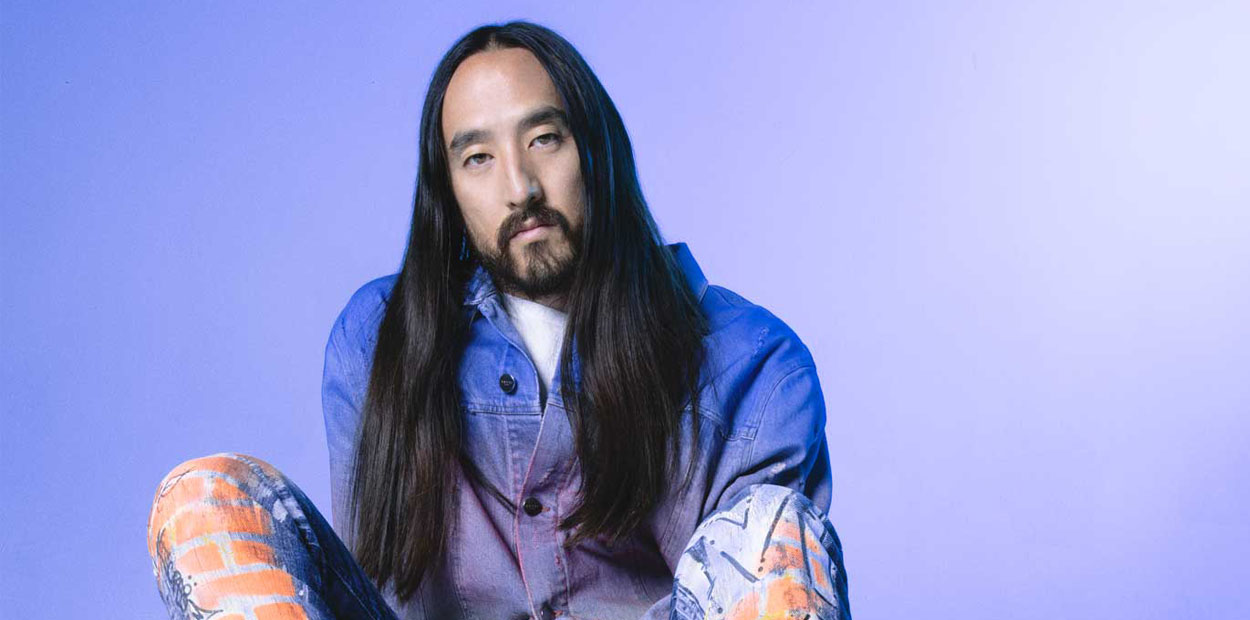 Steve Hiroyuki Aoki, ismertebb nevén STEVE AOKI japán-amerikai electro house dj, zenész és zenei producer. 1977. november 30-án született a floridai Miamiban, Rocky Aoki és Chizuru Kobayashi harmadik gyermekeként. Van egy idősebb nővére Kana, és egy idősebb bátyja, Kevin (ő a Doraku Suchi étterem tulaja). Édesapja korábban birkózó volt, de később megalapította a Benihana étteremláncot. Steve-nek van három fiatalabb féltestvére: Kyle, Echo és Devon, aki modell és színésznő. Steve bár Miamiban született, nagyszüleivel és idősebb testvéreivel, valamint édesanyjával Newport Beach-en nőtt fel, Kaliforniában. 1995-ben érettségizett a Newport Harbor High School-ban, elmondása szerint ő volt a gimi tollaslabda csapatának sztárjátékosa.
   Steve a University of California nevű egyetemen tanult Santa Barbarában. Feminista tanulmányokat illetve szociológiát tanult. Steve a 20. életévének elején alapította meg a saját kiadóját, a Dim Mak Records-t. Az elnevezést gyerekkori hőséről, Bruce Lee-ről kapta.
DIM MAK RECORDS ÉS KORAI KIADÁSOK 1990-2010
   A Dim Mak Records hivatalosan 1996-ban alakult meg. Ez kiadta más electro house művészek zenéit is, ilyen köztük MSTRKRFT, The Bloody Beetroots, Felix Cartal and Mustard Pimp, valamint Bloc Party, The Kills, Klaxons, Infected Mushroom, Scanners, Whitey, és Mystery Jets. Steve összeállt az LA-alapú zenekarral, a Blake Millerrel, hogy remixeket készítsen. Ez a duó Weird Science név alatt dolgozott.
   2006-ban az MC5 testület tagja lett, ami nem más, mint Michael Davis Music Is Revolution Foundation Alapítványa, egy non-profit szervezet, amely a zeneioktatást támogatja állami iskolákon belül. Debütáló mix albuma Pillowface and His Airplane Chronicles 2008 januárjában jelentek meg. Volt egy Essential Mix-e, ami 2008. augusztus 2-án a BBC Radio 1 adásába került, majd később, 2012. október 27-én újra. Együttműködve a gyártókkal és eddigi kiadott kislemezeket több zenei művésszel, köztük olyanokkal, mint The Bloody Beetroots, Armand Van Helden of Duck Sauce, Afrojack, Laidback Luke, Tai, Chris Lake, Angger Dimas, Sidney Samson, Tiesto. Számtalan remixet készített más előadókkal, köztük Jackson 5, Drake, Kanye West, Eminem, Lil Wayne, Mike Posner, Girls Generation, All American Rejects, Refused, The Killers, Bassnectar, Lenny Kravitz, Bloc Party, Snoop Dogg, Robin Thicke, S.P.A., Kid Cudi, Fërnando Oviedo, Chester French és Peaches. 
NEMZETKÖZI ÁTTÖRÉS 2010-12

   A sok turnézás meghozta számára a hatalmas támogatást a főiskolások részéről. Steve széles körben ismert akrobatikus tömegszörfözéséről, süteménydobás a rajongóknak, pezsgős üveg bontásairól, és tutajok lovaglásáról a színpadon. Fellépett kevésbé utazott helyeken is, így 2009-ben Pekingben, Kínában Diplo-val egy éjszakán keresztül, amit támogatói, a Split Works rendezett. 2012 júliusában hozzáadták a Pollstar Top 100 North American Tours listához, amely úgy nevezi meg őt, mint a legnagyobb bevételt hozó táncművész Észak-Amerikában az első félévben.
   2010 márciusában kiadta az I'm in the House-t, ami egy kollaboráció Zuper Blahqval, aki a The Black Eyed Peas will.i.am-jének alteregója. A dal a No. 29 lett a UK Singles Chart-on az első héten, később pedig belépett a UK Dance Chart és a UK Indie Chart-ba, és jelen volt a legjobb öt között. A dal később szerepelt az MTV Jersey Shore egyik epizódjában, ezenkívűl a Piranha című filmben és a Think Like A Man előzetesében. A producer-dalszerző Lucas Secon 2010 májusában egy interjúban megerősítette, hogy ő és a Rivers Cuomo nemrég Aokival dolgozott egykislemezen.
   2012-ben megjelet Aoki szólóalbuma, a Wonderland, amelyen közreműködtek vendégzenészek és énekesek, mint LMFAO, Kid Cudi, Kay, Travis Barker, will.i.am aka Zuper Blahq, Wynter Gordon, Rivers Cuomo, Lil Jon, Chiddy Bang, Lovefoxxx of CSS, Big John Duncan és mások. Nem sokkal később megjelent a remix album. Aztán 2012. december 11-én megjelent első középlemeze, amely az It's the End of the World As We Know It nevet viseli, ez összesen három dalt foglal magában. Aoki jelölve lett a Grammy Award for Best Dance/Electronica Album kategóriában 2013-ban, az 55. Annual Grammy Awards-on.
A LIGHT THAT NEVER COMES 2013

2013. október 11-én együttműködve a Linkin Parkkal, elkészült A Light That Never Comes, amely szerepelt a Recharged albumon 18 nappal később. Az A Light That Never Comes-t használták filmekben is, mint például a Feláldozhatók 3. részében. 2011-től 2014-ig számos zenéjét tartalmaztáktelevíziós műsorok, reklámok és filmek. 2012-ben a  Beat Down Iggy Azalea közreműködésével megjelent a Bad Girls All-Star Battle valóságshow-ban. 2013 és 2014 folyamán a Boneless  című zenéjét számos reklámfilmben használták fel a vállalatok, ilyen például a Scion, Budweiser, és Sol Republic.
NEON FUTURE 2014-15
   A Get Me Outta Here 2014-ben a Scion reklámjában, míg a Free the Madness a Bud Light reklámjában szerepelt. A Flight 2014-ben szintén szerepelt, a Sol Republic reklámjában. Ezenkívül még filmekben is megjelentek, így a Back To Earth a Step Up: All In, illetve a Freak a 22 Jump Street című filmben. A DJ Times és Pioneer DJ magazin eredményei alapján Aoki a 2013-as America's Best DJ competition-a vote és a Promotion to find out the country's most popular DJ kategóriában a 6. helyet foglalja el. 
   Steve Aoki egy új két részes album megjelenését jelentette be a 2014-es és 15-ös évre, melynek első része 2014. szeptember 30-án került kiadásra. A korong hatalmas sikernek örvendett, s hamar első lett a Dance/Electronic Albumok között az Egyesült Államokban. A második része, vagyis a Neon Future II 2015. május 12-én került a boltok polcaira, s olyan előadók működtek közre rajta, mint Snoop Lion és Riers Cuomo. Csak úgy, mint a lemez első része, szintén első lett a Dance/Electronic Albumok között, 32. a Billboard 200-as listáján és negyedik az Independent Album listáján az Egyesült Államokban.
   2015 májusában jelentették be, hogy a Relativity Media készíteni fog egy dokumentumfilmet, I'll Sleep When I'm Dead címmel, s Aoki életmódjáról és üzleti tevékenységeiről fog szólni.
KOLONY, 5OKI, NEON FUTURE III & IV 2016-

   2016. július 29-én jelent meg harmadik minialbuma, 4OKI címmel, mely összesen négy dalt tartalmaz. Szintén ez évben a nagysikerű Why Him? (Miért pont Ő?) című filmben alakította saját magát, ugyan csak egy rövid szereperejéig. 2017. július 21-én jelent meg negyedik albuma, Kolony címmel. Novemberben együtt dolgozott a koreai együttessel, a BTS-szel, a Mic Drop című daluk remix változatát készítette el Desiigner közreműködésével. A Mic Drop megjelenésének napján jelent meg az All Night is, Lauren Jauregui-al közösen.
   2018 februárjában Steve bejelentette ötödik középlemezét, a 5OKI-t. A rajta található dalokat hetente jelentette meg, kezdve a Mayhem-mel. 2018. május 18-án megjelent a Pretender Lil Yachty és az AJR közreműködésével. Júniusban Rita Ora, Charli XCX, Bebe Rexha és Cardi B Girls című dalából készített remixet. 
   2018. augusztus 6-án, egy interjúban jelentette be új albumát, a Neon Future III-t. Az albumon olyan nevekkel dolgozott együtt, mint Nicki Minaj, a BTS, Ira Wroldsen és a Blink 182. Október 25-én megjelent a Waste It On Me, melyben a BTS három tagja (Rap Monster, Jimin, Jungkook) működnek közre - ez lett a BTS első angol nyelvű kislemeze, egyben Steve és a fiúbanda harmadik kollaborációja. A Neon Future III október 9-én jelent meg.
    A DJ hatodik stúdióalbumáról számos kislemez jelent meg; köztük a Play It Cool a koreai együttessel, a Monsta X-szel közösen; a Let It Be Me a Backstreet Boys-szal; valamint az Are You Lonely Alan Walker norvég DJ-vel és az ISÁK együttessel. Maga az album, a Neon Future IV 2020. április 3-án jelent meg.
   2020. július 3-án jelent meg RUNN-nal közösen a Last Of Me, ami az Arknights névre hallgató videojáték betétdala lesz.
VENDÉGSZEREPLÉSEK

   Aoki számtalanszor megjelent már a médiában, különösen videójátékokban, televíziókban, és zenei videókban. Szerepelt a NBA 2K8 és NBA 2K9 videójátékokban, mint egy különleges híresség játékosa, habár elismeri, hogy szörnyű kosárlabdában. 2012 januárjában kiadott egy új dalt a Turntable.fm-en. Aztán 2013. március 20-án a CW akkoriban megjelent új, szuperhős-sorozatában, a Zöld íjászban is megjelent egy epizód erejéig, ahol saját magát játszotta Oliver Queen nagyszabású megnyitóján. Megjelent még a PETA szőrme-elleni hirdetésében, amelyet elmondása szerint már 14 éves kora óta támogat. 
DÍJAK
2017: WDM Radio Awards
2015: MTV Latin America - Chiuku Award
2014: Empo Awards - Mexico´s Favorite Dj
2013: Empo Awards - Session
2008: Billboard Awards - Best Mix Album of the Year (Pillowface and His
Airplane Chronicles)
2007: Paper Magazine - Best DJ of the Year
2007: Ibiza Awards - Best Set of the Season
2007: BPM Magazine - Best Party Rocker DJ
írták: ?, bae hee yeon, bees knees
VIDEOKLIPEK
Duran Duran & Steve Aoki — Hungry Like the Wolf (2012)
Steve Aoki & Angger Dimas ft. Iggy Azalea — Beat Down (2012)
Girls' Generation — Mr Taxi (remix) (2012)
Azelia Banks — No Problems (2013)
Steve Aoki ft. Flux Pavilion — Get Me Outta Here (2014)
Steve Aoki ft. Afrojack — Afroki (2015)
Steve Aoki ft. Linkin Park — Darker Than Blood (2015)
Steve Aoki ft. Luke Steele — Neon Future (2015)
Steve Aoki ft. Fall Out Boy — Back to Earth (2015)
Steve Aoki ft. Nervo — Lightning Strikes (2015)
Steve Aoki & Boehm ft. Walk The Moon — Back 2 U (2016)
Steve Aoki & Louis Tomlinson — Just Hold On (2017)
Steve Aoki & Yellow Claw ft. Gucci Mane & T-Pain — Lit (2017)
BTS — Mic Drop (remix) (2017)
Steve Aoki ft. Lauren Jauregui — All Night (2018)
Steve Aoki ft. BTS — Waste It On Me (2018)
Steve Aoki & Monsta X — Play It Cool (2019)
Steve Aoki ft. Bella Thorne — Do Not Disturb (2019)
Steve Aoki ft. Backstreet Boys — Let It Be Me (2019)
Steve Aoki, Sting & SHAED — 2 In A Million (2019)
Steve Aoki ft. Lay Zhang & will.i.am — Love You More (2020)


FILMEK, SOROZATOK
Arrow / A zöld íjász (2013)
NCIS: Ibiza (2015)
Safety First: The Movie (2015) — önmaga
Point Break / Holtpont (2015) — Cameo Chalet
Charming / Bűbáj herceg és a nagy varázslat (2018) — Matilija DJ (szinkronhang)
Extinct (2021) (utómunkálatok) — Vinny (szinkronhang)
STÚDIÓALBUMOK
Wonderland
2012. 01. 10.
1. Earthquakey People ft. Rivers Cuomo
2. Ladi Dadi ft. Wynter Gordon
3. Dangerous ft. Zuper Blahq
4. Come with Me (Deadmeat) ft. Polina Goudieva
5. Emergency ft. Lil Jon & Chiddy Bang
6. Livin' My Love ft. LMFAO & NERVO
7. Control Freak ft. Blaqstarr & Kay
8. Steve Jobs ft. Angger Dimas
9. Heartbreaker ft. Lovefoxxx
10. Cudi the Kid ft. Kid Cudi & Travis Barker
11. Ooh ft. Robert Raimond Roy
12. The Kids Will Have Their Say ft. Sick Boy, The Exploited & Die Kreuzen
13. Earthquakey People (The Sequel) ft. Rivers Cuomo


Neon Future I
2014. 09. 30.
1. Transcendence ft. Ray Kurzweil
2. Neon Future ft. Luke Steele of Empire of the Sun
3. Back to Earth ft. Fall Out Boy
4. Born to Get Wild ft. will.i.am
5. Rage the Night Away ft. Waka Flocka Flame
6. Delirious (Boneless) with Chris Lake, Tujamo & Kid Ink
7. Free the Madness ft. Machine Gun Kelly
8. Afroki ft. Afrojack & Bonnie McKee
9. Get Me Outta Here ft. Flux Pavilion
10. Beyond Boundaries ft. Aubrey de Grey


Neon Future II
2015. 05. 12.
1. Time Capsule
2. I Love It When You Cry (Moxoki) ft. Moxie Raia
3. Youth Dem (Turn Up) ft. Snoop Lion
4. Hysteria ft. Matthew Koma
5. Darker Than Blood ft. Linkin Park
6. Lightning Strikes ft. Nervo & Tony Junior
7. TARS ft. Kip Thorne
8. Home We'll Go (Take My Hand) with Walk Off the Earth
9. Heaven on Earth ft. Sherry St. Germain
10. Holding Up the World ft. Harrison & Albin Myers
11. Light Years ft. Rivers Cuomo
12. Warp Speed ft. J.J. Abrams 


Steve Aoki Presents Kolony
2017. 07. 21.
1. Kolony Anthem ft. iLoveMakonnen & Bok Nero
2. Lit with Yellow Claw ft. Gucci Mane & T-Pain
3. Without U ft. DVBBS & 2 Chainz
4. How Else ft. Rich The Kid & iLoveMakonnen
5. Been Ballin ft. Lil Uzi Vert
6. Night Call ft. Lil Yachty & Migos
7. $4,000,000 ft. Bad Royale, Ma$e & Big Gigantic
8. If I Told You That I Love You ft. Wale
9. No Time ft. Bad Royale & Jimmy October
10. Thank You Very Much ft. Ricky Remedy & Sonny Digital


Neon Future III
2018. 11. 09.
1. Neon Future III
2. Just Hold On ft. Louis Tomlinson
3. Waste It on Me ft. BTS
4. Be Somebody ft. Nicky Romero & Kiiara
5. Pretender ft. Lil Yachty & AJR
6. A Lover and a Memory ft. Mike Posner
7. Why Are We So Broken ft. blink-182
8. Golden Days ft. Jim Adkins of Jimmy Eat World
9. Our Love Glows ft. Lady Antebellum
10. Anything More ft. Era Istrefi
11. All Night ft. Lauren Jauregui
12. Do Not Disturb ft. Bella Thorne
13. Lie to Me ft. Ina Wroldsen
14. Azukita ft. Daddy Yankee, Play-N-Skillz & Elvis Crespo
15. Hoovela with TWIIG
16. What We Started with Don Diablo x Lush & Simon ft. BullySongs
17. Noble Gas ft. Bill Nye 


Neon Future IV
2020. 04. 03.
SIDE 1
1. Close to God ft. Julien Marchal & Kita Sovee
2. I Love My Friends ft. Icona Pop
3. Halfway Dead ft. Global Dan & Travis Barker
4. Daylight ft. Tory Lanez
5. One True Love with Slushii
6. Girl ft. Agnez Mo & Desiigner
7. Maldad with Maluma
8. Last One to Know ft. Mike Shinoda & Lights
9. Love You More ft. Lay & Will.i.am
10. 2 In a Million ft. Sting & SHAED
11. Let It Be Me with Backstreet Boys
12. 1 4 U ft. Zooey Deschanel
13. Inside Out with Felix Jaehn & Jamie Scott
14. Play It Cool with Monsta X
15. Crash Into Me with Darren Criss
SIDE 2
1. New Blood ft. Sydney Sierota
2. Homo Deus ft. Yuval Harari
3. Are You Lonely with Alan Walker & ISÁK
4. Do It Again with Alok
5. Terra Incognita ft. Bryan Johnson
6. 2045 with Going Deeper
7. Popcorn with Ummet Ozcan & Dzeko
8. I Wanna Rave with Bassjackers
9. Hava with Timmy Trumpet ft. Dr. Phunk
10. Rave with Showtek & MAKJ ft. Kris Kiss
11. Cut You Loose ft. Matthew Koma
12. Eevos Atik foes ireht ft. Kita Sovee 
REMIX ALBUM
Wonderland Remixed (2012)


VÁLOGATÁSALBUM

Neon Future Odyssey (2015)


MIXTAPE

Pillowface and His Airplane Chronicles (2007)


KÖZÉPLEMEZEK
It's The End Of The World As We Know It (2012)
A Light That Never Comes (Remixes) (2014)
4OKI (2016)
5OKI (2018)


KISLEMEZEK
I'm in the House ft. Zuper Blahq (2010)
Brrrat! with Armand Van Helden (2010)
Wake Up Call with Sidney Samson (2010)
Turbulence with Laidback Luke ft. Lil Jon (2011)
No Beef with Afrojack ft. Miss Palmer (2011)
Earthquakey People ft. Rivers Cuomo (2011)
Tornado with Tiësto (2011)
Ladi Dadi ft. Wynter Gordon (2011)
Livin' My Love ft. LMFAO & NERVO (2012)
Cudi the Kid ft. Kid Cudi & Travis Barker (2012)
Beat Down with Angger Dimas ft. Iggy Azalea (2012)
Phat Brahms with Anger Dimas vs. Dimitri Vegas & Like Mike (2012)
Singularity with Anger Dimas ft. My Name Is Kay (2013)
Omega ft. Miss Palmer & Dan Sena (2013)
Boneless with Chris Lake & Tujamo (2013)
Flight with R3hab (2013)
A Light That Never Comes with Linkin Park (2013)
Bring You to Life (Transcend) with Rune RK ft. RAS (2013)
Can't Stop the Swag with Coone (2014)
Feedback with Autoerotique vs. Dimitri Vegas & Like Mike (2014)
Freak with Diplo & Deorro ft. Steve Bays (2014)
Rage the Night Away ft. Waka Flocka Flame (2014)
Delirious (Boneless) with Chris Lake & Tujamo ft. Kid Ink (2014)
Free the Madness ft. Machine Gun Kelly (2014)
Get Me Outta Here ft. Flux Pavilion (2014)
Born to Get Wild ft. will.i.a.m (2014)
Cake Face (2014)
I Love It When You Cry with Moxie Raia (2015)
Darker Than Blood ft. Linkin Park (2015)
Lightning Strikes with NERVO & Tony Junior (2015)
The Power of Now with Headhunterz (2015)
Phenomena with Borgore (2015)
Feel (The Power of Noew) with Headhunterz (2016)
Can't Go Home with Felix Jaehn ft. Adam Lambert (2016)
Melody with Dimitri Vegas & Like Mike vs. Ummet Ozcan (2016)
Back 2 U with Boehm ft. Walk the Moon (2016)
How Else ft. Rich the Kid & iLoveMakonnen (2016)
ILYSM with Autoerotique (2016)
Dope Girlz with Shaun Frank (2016)
Bring the Funk Back with Reid Stefan (2016)
What We Started with Don Diablo, Lush & Simon & BullySongs (2016)
Kids with Morten (2016)
Be Yourself with Deorro (2016)
Supernova (Interstellar) with Marnik ft. Lil Jon (2016)
Just Hold On with Louis Tomlinson (2016)
Alive ft. Young Egypt (2017)
Without U with DVBBS ft. 2 Chainz (2017)
Night Call ft. Lil Yachty & Migos (2017)
Lit with Yellow Claw ft. Gucci Mane & T-Pain (2017)
Darker Than the Light That Never Bleeds (Chester Forever Remix) with Linkin Park (2017)
$4,000,000 with Bad Royale ft. Ma$e & Big Gigantic (2017)
All Night with Lauren Jauregui (2017)
We Are Legend with Dimitri Vegas & Like Mike ft. Abigail Breslin (2017)
Azukita ft. Daddy Yankee, Play-N Skillz & Elvis Crespo (2018)
PLUR Genocide with Carnage ft. Lockdown (2018)
Mayhem with Quintino (2018)
Pika Pika with LOOPERS (2018)
It's Time with Laidback Luke ft. Bruce Buffer (2018)
Anthem with Hardwell ft. Kris Kiss (2018)
Moshi Moshi with Vini Vici ft. Mama Aoki (2018)
Pretender ft. Lil Yachty & AJR (2018)
Bella Ciao with Marnik (2018)
Shakalaka with Deorro, MAKJ & Max Styler (2018)
Lie to Me ft. Ina Wroldsen (2018)
Be Somebody with Nicky Romero ft. Kiiara (2018)
Jaleo with Nicky Jam (2018)
Hoovela with Twiig (2018)
Waste It On Me ft. BTS (2018)
Are You Lonely with Alan Walker ft. ISÁK (2019)
Hit Your Heart with Dagny (2019)
Play It Cool with Monsta X (2019)
Do It Again with Alok (2019)
Rave with Showtek & Makj ft. Kris Kiss (2019)
Crash Into Me with Darren Criss (2019)
Hava with Timmy Trumpet ft. Dr Phunky (2019)
Let It Be Me ft. Backstreet Boys (2019)
Send It with Will Sparks (2019)
2 In A Million ft. Sting & SHAED (2019)
I Wanna Rave with Bassjackers (2019)
Popcorn with Ummet Ozcan & Dzeko (2019)
Maldad with Maluma (2020)
Halfway Dead ft. Global Dan & Travis Barker (2020)
Love You More ft. Lay & will.i.am (2020)
One True Love with Slushii (2020)
Last Of Me ft. RUNN (2020)

KÖZREMŰKÖDÉSEK
The Bloody Beetroots — Warp 1.9 ft. Steve Aoki (2009)
The Bloody Beetroots — New Noise ft. Steve Aoki & Refused (2010)
NERVO — We're All No One ft. Afrojack & Steve Aoki (2011)


REMIXEK
Michael Jackson — Dancin' Machine
Autoerotique — Gladiator
NASA — Gifted ft. Kanye West, Lykke Li, Santigold
Chris Cornell — Part Of Me
Chester French — She Loves Everybody
The Killers — Spaceman
Fact — Rise
All American Rejects — The Wind Blows
Good Charlotte — Misery
S.P.A. — Pets Dance
Lenny Kravitz — Dancin' Til Dawn
Robin Thicke — Magic
Duran Duran — Skin Divers ft. Timbaland
Drake — Forever ft. Kanye West, Lil Wayne & Eminem
Weezer — (If You're Wondering If I Want You To) I Want You To
Klaxons — Echoes
Bassnectar — Red Step
Girls' Generation — Mr. Taxi
Mike Posner — Looks Like Sex
Lady Gaga — Government Hooker
Tiga — What You Need
Army of the Universe — Kill the F* DJ
Dirtyphonics — No Stopping Us ft. Foreign Beggars
Kid Cudi — Pursuit of Happiness ft. MGMT & Ratatat
Travis Barker & Yelawolf — Push 'Em
2 Unlimited — Get Ready
Empire Of The Sun — Celebrate
Borgore — Last Year
The Chainsmokers — Kanye ft. sirenXX
David Guetta — Dangerous ft. Sam Martin
Botnek — Grindhouse
Neon Future
Maná — La Prisión
Florian Picasso — The Shape
Max Styler — D2B with Charlie Darker
Hechizeros Banda — El Sonidito
Minor Circuit — Punch-Out
Henry Fong — Drop It Down Low ft. Richie Loop
Back 2 U with Boehm ft. Walk the Moon
Soundgarden — Bored to Death
My Chemical Romance — Welcome To The Black Parade
Dimitri Vegas & Like Mike — Hey Baby vs. Diplo ft. Deb's Daughter
Kenji Kawai — UTA IV: Reawakening
Mangchi — The Best
Ayo & Teo — Rolex
Michael Jackson — Thriller
J Balvin & Willy William — Mi Gente
Linkin Park — One More Light
BTS — Mic Drop
Oliver Heldens — What The Funk ft. Danny Shah
Alan Walker — All Falls Down ft. Noah Cyrus & Digital Farm Animals
Garmiani — Shine Good ft. Julimar Santos
Night Call ft. Lil Yachty & Migos
All Night with Lauren Jauregui
AJR — Sober Up
Matoma — Lonely ft. MAX
Celine Dion — Ashes
Rita Ora — Girls ft. Cardi B, Bebe Rexha, Charli XCX
Henry Fong & Vlien Boy — Pop It Off ft. Lisa Mercedez
Pretender ft. Lil Yachty & AJR
Nicky Romero & Taio Cruz — Me On You
The Bloody Beetroots — Warp 2.019
Why Are We So Broken ft. Blink-182
WCG Inc — Beyond The Game
Elephant Heart — The Digital
Big Boi & Sleepy Brown — Big Boi ft. CeeLo Green
Timbaland — The Way I Are ft. Keri Hilson, D.O.E. & Sebastian
R3hab, Zayn & Jungleboi — Flames
Armin van Buuren & Tempo Giusto — Mr. Navigator